Last week, i recieved an email from someone, she is from Turkey and told me that she really enjoy my blog. She wishes that I wrote all my post in English.
Since i read her e-mail, i think it's time to start writing my post in english again. so the foreigner readers able to enjoy my blog too. haha, i know, my English is not good enough but i`ll try my best.
So, don`t ever judge my blog because of my bad english literary or grammar...hihihi

Ok, back to topic, this time i will post about my latest beauty haul...just a few item that i bought from a local cosmetic store here..
so, here is a list of what i purchased:
1.
four bottles of Nivea Hand and body lotion ( Uv whitening, uv extra whitening and night whitening)....the price is only IDR 11rb/bottle or approx $1.1.
i bought this lotion when the store has a promo BOGO free.. so, it's really a big deal.. haha..i only paid $2.2 to get 4 bottles of nivea body lotion.. i heard lot of good reviews about this lotion on femaledaily forum. They said this lotion can brightening the skin..so yaaay, i can`t hardly wait to see the result on my skin..
2.
Hadalabo Ultimate anti aging (retinol) series.
Hadalabo was recently launched in Indonesia .. i`ve tried the gokujyun (SHA) series 2 month ago. Altough i have a `breakout` experience with the gokujyun (SHA) series, I still want to change my skincare routine with another hadalabo series *
nekat
..haha* ,its so tempting when i read the ingredients are fragarance and colorant free.. so i decided to buy these items: Hadalabo Ultimate anti-aging lotion (idr 45 rb/ $4.7) and Hadalabo Ultimate anti aging milk (idr 54rb/$6)..
it's been a week i`m using this retinol series and my face is getting better so far. i only use this lotion at night before going to sleep.. i don`t have any breakout with this series..i`ll do the review soon when i have a good result with this retinol series..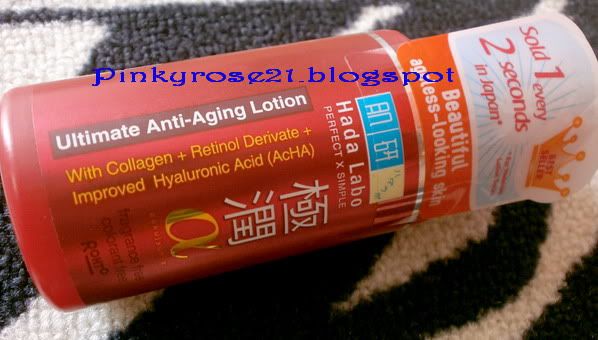 Hadalabo Ultimate Anti Aging-Lotion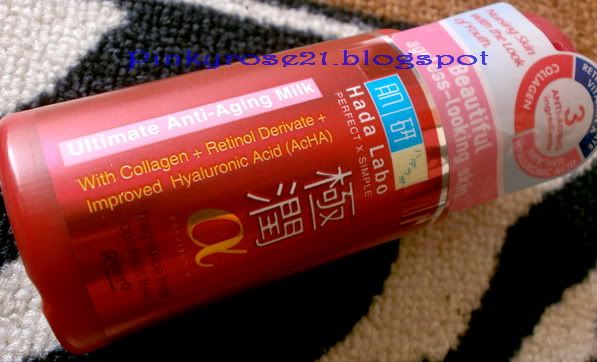 Hadalabo Ultimate Anti Aging-Milk
3.
a few of cheap lips product...
- Viva lipstick no.10 ( IDR 8900 / less than $1)...i was little bit bored with my nude lippies..i wanna try something new color. this is my first time i have a lip color like this.. it's bright peachy orange with a hint of pink colors... and guess what? it doesn`t suit on my skintone at all..but it`s very cheap.. so it`s not fair to me to regret buying these items..hihi...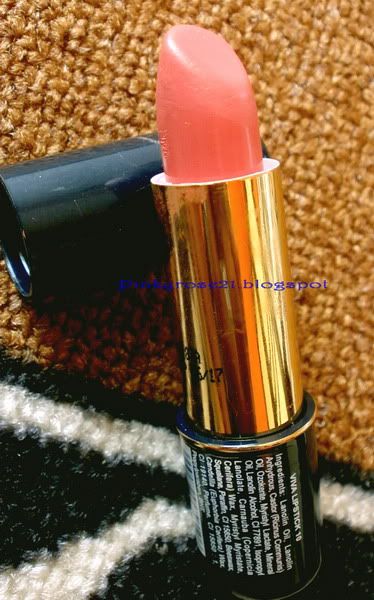 - Silkygirl lipgloss in barely nude (IDR 19k / $2)..i ran out of my nude lipgloss..so, i decided to try this lipgloss..it's cheap and has a pretty nude color.. but it`s not too pigmented if you want to wear this lipgloss alone...

- Fanbo matte lipstick no.09. (IDR 14k / $1.5)
actually, i`m not intend to buy this lipstick..when i come to fanbo counter, i just looking for the moisture lipstick no.13.. but it's always out of stock.. so the beauty advisor insist me to buy this matte lipstick, she said this one has a similiar color with the moisture lipstick no.13, but slightly brown and darker.... ok, since this lipstick is cheap enough.. i decided to buy it... but when i try to apply it on my lips, this color turn out look more orange on my skintone... and it's look too dark on my lips... ouugh, i don`t like it..., but honestly, the texture of this lipstick is good, it's pigmented and very smooth...


here is the swatch of the lippies :
From Top-Bottom : Silkygirl lipgloss-Viva Lipstick no.10-Fanbo Matte lipstick no.9


Fanbo no.09


Viva Lipstick no.10


Silkygirl lipgloss `barely nude`

So, that's my latest beauty haul... hmm.... thank you for visiting my blog
have a nice day....