halooo,happy long weekend ladieees... kali ini mau nge post barang2 yang ada di tas ku selama aku berpergian..hoho, hari ini aku mau berangkat ke Bandung, tapi pagi2 pas packing d sempet2 in nge-post blog dulu..hahaha, cuman mau kasih ide buat kalian apa yang perlu di bawa2 saat travelling.Yang bikin nyaman selama perjalanan.Bawaanku sebenernya buanyaaaaaaak banget, tapi sebisa mungkin aku bawa sepraktis, dan semini mungkin... Dan supaya isi tas gak kacau balau, aku juga selalu bawa bag organizer, jadi walopun bawaannya banyak, kalo mau ambil apa2 yang d butuhin gampang... gak mesti acak2 seluruh isi tas... hehe....
The bag ; ciciero daisy black. Ciciero ini local brand ya, entah belakangan aku suka banget sama tas nya ciciero..menurutku buat harga segitu, kita dapet kualitas yang bagus...aku suka tas ini soalnya keliatan simple,classy,besaar (muat banyak barang),dan cukup kuat buat di abuse..hahaha
ini dalemnya tas, ada bag organizer nya...
1. obat2an... ini penting!, supaya nyaman dalam perjalanan..hampir semua jenis P3k aku bawa, tapi aku bawa dalam ukuran dan jumlah yg kecil, jadi bisa di masukin dalam kantong mini,
wahaaa, lengkap ya yg d bawa...


2.toiletries... ini hampir semua aku depot ke botol2 mini ya,soalnya beli ukuran travel size pun masih tetep kegedean dan cukup berat buat d bawa, jadi aku depot ke botol mini(semuanya udah di sterilkan ya), dan di isi seperlunya aja, dikira2 cukup sampe pulang.. hihi... ini yang di bawa:
semuanya di depot di botol mini yg d bawahnya itu,:- acnes facial wash (ku depot di jar mini)
- shampoo: mustika ratu merang
- loreal elseve conditioner
- skinwhite body lotion
- vaseline spf 30 sunblosck
- j.lo still EDP
- emillio puci acqua (vial)
- olaris hair serum
- body wash


yang foto ini, isinya random stuff yang wajib d bawa
3.toothpaste+toothbrush package (yang buat traveling, praktis..gak makan tempat)
4.wet wipes (buat cuci tangan)..
5.Sariayu feminine hygiene tissue
6.Shikada facial cleansing wipes
7.permen
8. handy clean hand sanitizer
9.Deo-lotion ( bawa deodorant itu termasuk bulky item... hahaha)
10.earphone
11. tissue
13. sisir mini
14. jepitan rambut
15. yang warna merah bentuk hati itu emergency kit, isinya (cotton bud,peniti,benang+jarum)
16. yang coklat motif croco itu dompet harta karun, alias makeup pouch...... ini yang bikin puyeng, bawa barang seminimalis mungkin... haha...tapi yang pasti aku mesti bawa barang yang gampang d pakai, dan staying powernya oke.... dan pilihannya jatuh ke..... :
LIPS: CC lip balm+ NYX soft matte lip cream (gampang d pakai dan staying powernya okeeeh)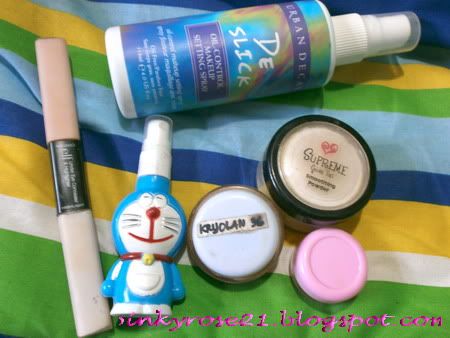 FACE: elf under eye concealer, UD de slick spray(di depot di botol doraemon mini), kryolan foundie,awg minerals silica powder,pureluxe erasers primer
EYES: Urban Decay 24/7 liquid liner, daiso eyebrow pencil,black radiance mascara (ini mascara HG baru aku, very natural buat di pakai daily..smudgeproof,waterproof, looove it)


BRUSHES: elf powder brush,elf complexion brush, no brand foundie brush (paling gampang make nya), coastal scents eye brush duo(ini aku gak pakai buat esedo ya, tapi buat blending under eye concealernya elf)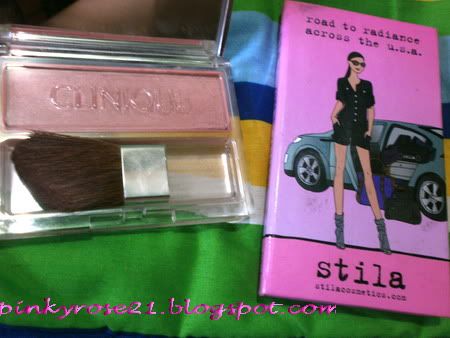 CHEEKS: clinique powder blush ( gampang di pakainya pakai brush bawaannya yang cukup dense+smooth, staying power oke), stila palette across the U.S.A (aku pakai cream blush nya aja, kalo travelling aku gak pakai eyeshadow.. )
dan ini 2 item penting buat blotting muka tambang minyak ku, ini kutaroh di katong tas biar gampang d ambil juga... :
natural born blotting powder, ovale face paper
whoaaaaaaa, abis nulis ini saya nyadar kalo isi tas saya banyak bangeeeeeeet...hahaha, tapi semua berguna buat perjalanan. oh ya satu lagi..saya selalu bawa sendok makan plastik di tas, buat jaga2 supaya hygienis kalo mau jajan, hihihi..... happy weekend all....